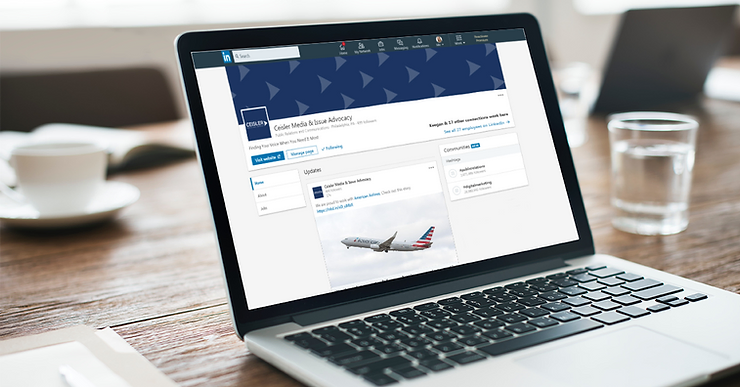 The ability to reinvent yourself and do it well is an art. At Ceisler Media & Issue Advocacy, we have years of experience helping our clients present in new ways and keep themselves relevant. In 2018, we decided it was time to market ourselves just as we do for our clients.
So we did. And we're damned proud of our new look.
In recent blogs, we've shared our process of rebranding, as well as the nuts-and-bolts of designing our new logo.
But modernizing your brand only works if people see the results. You may paint the Mona Lisa, but, in our business, you're only a success if an audience gets to appreciate your masterpiece.
That's where I come in.
We knew we needed a fresh look – something modern, sleek and forward moving (hence the arrow). We needed bolder colors and a website to match.
But what's the point if we aren't driving people to our site?
Help Your Employees Help You.
Your employees are your best advocates for promoting your message out into the world. A recent study showed that a message shared by employees earned 561 percent more reach — and eight times more engagement — than the same messages simply shared by the brand's social media channels. So inform your employees when there's strong content to share.
In fact, take it a step further by directly encouraging them with something like, "Hey, this has been posted. You should share with this post [insert message] or engage by 'liking' it." Obviously, no one should be forced to share, but most will do so when handed a good item on a silver platter.
Think in-house promotion as well, with something as simple as your email signature. How many emails do you send a day? Ok now, multiply that by the number of employees you have. Big number, right? If you brand your signature and add a link, you can direct hundreds of clients to your site. We link ours to the Ceisler website's Blog.
Find out what branded documents your employees use the most. Make sure to create new business one-pagers, memos, letterheads, even a PowerPoint deck. If you make it easy for your employees to find, they'll use it.
Social Media Roll Out.
The idea of a rebrand is exciting and invigorating. It gives us a reason to contact someone, just to say, "Hey did you see our new look? We're with the times." So use that motivation and turn it into momentum. But know the specifics of your social media platforms. How are they viewed on different devices? Be ready to rebrand all platforms at once and then make a big deal about your new logos.
Ceisler Media can be found on all of the major social media channels – LinkedIn, Facebook, Twitter, Instagram, even YouTube. Each platform serves its own purpose. We target a different audience with each, so we tailor our content accordingly.
Make sure you are appealing to the audience of that particular platform. For example, LinkedIn is best used for long-form content and thought leadership pieces — such as op-eds, curated content, blog posts (like this one) and case studies. Twitter, on the other hand, is geared toward short articles you want to share with your followers immediately. And Instagram is best for photos telling a story of the event.
So, now that you've rebranded, it is time to reach your audience — those who should be interested in your services. It's about targeting the right person, not necessarily a lot of people. Who are your decision makers or influencers? Are you going after C-level business executives or end consumers? This is an industry-specific question you must answer to avoid wasting time, energy and, potentially, money on the wrong social media.
Experiment. If something doesn't work, you can always stop the campaign and redo. It's always smart to reassess at the end and learn from your mistakes.
Yes, it is hard to do for yourself what you do for others. But it is important to take care of your own business. At Ceisler Media & Issue Advocacy we are doing just that.
So please, continue to read and engage with our posts.
Melissa Sherman is the Social Media Manager in Ceisler Media's Philadelphia office.