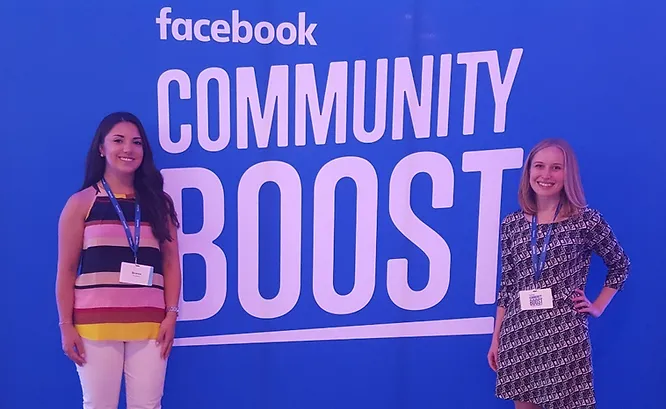 For those of us that work in social media, the learning process never ends. That's why we were excited when the team at Facebook announced that they were stopping in Pittsburgh on their Community Boost Tour.
We got to hear from employees at Facebook and small business owners from the Pittsburgh area who are using social media to connect with their communities and gain new customers.
We spent two days at the University Club on Pitt's campus, learning about everything from managing groups, using Instagram for Business, and taking Facebook ads to the next level. Here are our top takeaways:
Be Authentic.
I always find it inspiring to meet people who are passionate about what they do, the products they sell or the services they provide. Facebook's Community Boost event was filled with people who were not marketers – but rather, small business owners and nonprofit leaders. These folks are having success on Facebook and Instagram by speaking authentically to their followers and creating new content that showcases the work they perform every day.
Be Responsive.
Facebook is a place for your community members to connect with you whether you have a for-profit business or a non-profit that provides a service. When someone comments on a post, reply back to them. When someone reaches out to your business through Facebook Messenger, reply as quickly as you can. When you have a new member join your Facebook group, make a point to welcome them. This fosters trust in your business or organization.
Try Something New.
Facebook and Instagram are always adding new features and ways for you to reach more people. One of the positives of promoting your organization on social media is that these platforms allow you to be nimble and adjust your strategy according to what works.
For example, Facebook's advertising platform allows you to A/B test. Take advantage of this and see what your audience is responding to. You can eventually put more resources behind an ad once you know it is gaining traction with our audience.
Stay the Course.
You don't have to grow your following overnight to be successful. It's important to engage your followers on a regular basis. And if you are posting interesting content, growth will happen naturally over time. Most of the people we heard from at the Community Boost event did not have tens of thousands of dollars in their marketing budget. They were boosting their most successful posts in small intervals. Each organization or business needs to define success for itself and these platforms can help groups meet their goals at every level.
If you didn't get a chance to attend one of Facebook's Community Boost events and want to learn more, check out the resources available at www.Facebook.com/blueprint.
Elizabeth Stoner is the Senior Manager Digital & Creative Services at Ceisler Media and is based out of Pittsburgh.